Need a new air conditioning system installed for you home? Don't worry – Air Conditioners Sunshine Coast is on the job.
The need to persevere through hot summer days has come to an end. With our prompt execution of quality sunshine coast air conditioning services Kunda Park Qld, you can rest assured that you will be comforted by your own home's cool breeze in no time.
Worried about your bank account taking too much of a toll when you avail our services? There's no such thing! With us by your side, the price you'd need to pay is definitely affordable and worth it.
With over 20 years of experience in this field, our teams will be sure to install the best air conditioning system for you home. We are the Air conditioning leaders in the Sunshine Coast for a reason. Give us a call at 0431 588 808 and get your obligation-free quote today!
We Help You Through The Process
Planning to purchase a new air conditioning Sunshine Coast system? We can help you from start to finish!
Whether you need a professional's advice on what type of air conditioner to purchase or how much power you'd need to maintain the perfect temperature for you home, we are the people for the job. With over 20 years of experience, we are masters of the cooling machine. We know air conditioners like the back of our hand and can surely help you make the right choice when it comes to making a purchase.
Once you have purchased the best system for your home, we can help with air conditioner installation and maintenance for peak performance. If this appeals to you, give us a call on 0431 588 808, and we can get started on your journey towards a cooler, more comfortable home!
Air Conditioning Installation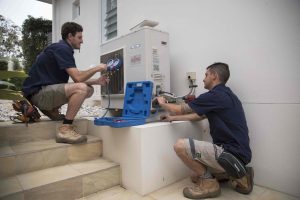 Your particular requirements will determine exactly what type of air conditioning system you require. Act Right Electrical will discuss your needs with you, assess your personal requirements and offer advice and prices on the perfect solution for you. There are many types of air conditioners to choose from and there is the perfect one for you.
We Guide You Through The Process
Which choices from window air conditioners, split air conditioners, packaged air conditioners and central air conditioning systems, how do you determine which one will work most effectively for you? We will guide you through the process, helping you consider not only your current budget and exactly what you expect from your air con system but also your future energy costs to plan for.
Ducted Air Conditioning
If you are looking to cool your entire house a ducted system is generally the ideal choice, with an outdoor compressor, air handling unit and vents in every room. Installation of such a system also requires planning for your visual environment as you will wish to make your system as discrete as possible and with little noise pollution. Your home or property might be short on available space, in which case Act Right Electrical may advise the installation of a multi-head split system or reverse-cycle conditioner.
This system has a solo outdoor compressor which powers different indoor units, all of which can be controlled individually. Wall mounted split systems are great for cooling solo rooms or areas and have an indoor unit with an outdoor compressor, generally with a reverse cycle to both cool and heat.
Evaporative Air Conditioning
Evaporative air conditioning works extremely well in dry heat areas and if you are severely inhibited for space the option of a ceiling cassette system might be the perfect solution for you. Solar air conditioning is an effective green, energy efficient option and will work off both solar and electricity.
You Deserve The Best
Let Act Right Electrical guide you toward the perfect air conditioning choice for you. We are based on the Sunshine Coast and offer professional expertise with the perfect solution for your individual requirements.
Call us on 0431 588 808 to discuss your electrical or air conditioning needs and we guarantee that you will always speak to an experienced tradesman – no receptionists or 'call back' services.