Air Conditioning Installation Sunshine Coast
Do you think you need air conditioning installation Sunshine Coast services? Need to remove, replace, and thoroughly inspect your aircon for something that's wrong? You've arrived at the right website. Our decades of experience and satisfied clients by the hundreds can tell you that we have the best, most efficient, and safe method to inspect air conditioning units. You've got the right people for the job, all that's left is to call us at 0431 588 808, and we'll get started on your air conditioner!
Why Choose Us
Local business with over 20 years combined experience
No fuss
On time
Friendly professional service
Affordable while still being high quality
Promptness and attention to detail
Quality electricians you can trust
Air con leaders in the Sunshine Coast
Free, no obligation quote
Sunshine Coast Air Conditioning Specialist
Do you need some to look into your air conditioning Caloundra unit? We understand; air conditioning was once a luxury. However, the heat in the land down under is incomparable to any summer rave in the world. To have a unit replaced can cost a fortune. We understand how important it is to ensure the safety and proper installation of your air conditioning unit.
Our experts understand how to install Fujitsu air conditioning Sunshine Coast units. They also know how to install ducted air conditioning Sunshine Coast for homes with split-type air conditioning. With over 20 years of serving the neighbourhood, we can give you the best professionals who have the right tools and skills to make sure you have the best air conditioning unit repairs and installation.
Call us today at 0431 588 808, and we can inspect, install, or repair your Barkers air conditioning Sunshine Coast unit in no time.
Air Conditioning Installation Sunshine Coast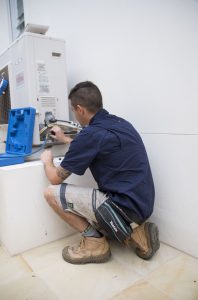 Our professional and friendly team can not only assist with installation but also air conditioner sales as well as. We understand your concern; hiring an expert for the job is an added expense. But consider the alternative: your brand new air conditioning unit may not fit that small passage that you made for a window-type unit. It is possible that the duct system you created for your split-type unit has leaks and is made of weak material.
We're here to make sure these problems never bother you after you purchase your air conditioning Noosa unit. You've had a handful finding the perfect Joyce Mayne air conditioner sale for your home; now it's time to relax and have us install it for you.
Take your cup of tea while we install your air conditioning unit. Call 0431 588 808 today, and we can get started!
We Help You Through The Process
Nobody wants a dead air conditioning unit. It means replacement and additional expenses. It is possible the manufacturer has phased out your dilapidated unit's series. This can both be good and bad. It is bad if you venture into an appliance center alone and be done in by salesperson's talk regarding the efficacy of a certain expensive unit can do for your home.
We want only the best and most effective air-conditioning unit you could buy. Aside from air conditioning installation Sunshine Coast services, we'll get asses which type of air conditioning unit can work very well for your home. We'll show you diagrams regarding the installation process and ways to reduce your energy costs by purchasing the right type of air conditioning unit.
Call us today at 0431 588 808, and let's make sure your home gets the right unit that can save you money and properly cool your room.
Want To Replace your Conditioning?
If you have an air conditioning unit aged more than 20 years, it's about time you replaced it with a new, modern one. We understand that it can be expensive, but you are paying higher utility bills monthly because of your old appliance.
Newer air-conditioning units are optimised to save energy whenever possible. They can reduce energy consumption when the room's temperatures are cooling down because of snow or rain while maximising the insulation of the house. In short, you are spending less for something that appears expensive at first.
We can advise you on when to get an inverter or when to use a window type unit with half-horsepower. We can help you estimate the costs of installing a split-type unit to help you estimate your complete budget without problems.
If this sounds good to you, we can help you with your unit replacement and installation by calling 0431 588 808. You deserve only the best Sunshine Coast air conditioning services Kunda Park QLD.
Important Points to Keep in Mind
If you are planning to install a centralized air conditioning system, you will need to consider different factors that our professionals can identify for you and include in the later planning and installation stages.
A duct system will pass through different rooms. You must know how many rooms you want to include in your new system. It is also important to assess better duct insulation for maximum energy efficiency and how it plays out with your expenses. Another factor to consider is to optimize the insulation of your home by sealing all openings, and considering alternative "green" solutions, including creating "cool roofing" through plants raised on your roof, and more.
Let's identify all the factors that will help you lower the temperature in your home. Call us a 0431 588 808 today, and we can get started!
Removal & Disposal of Your Old Air Conditioner
We are familiar with installment as we are with the removal and disposal of old air conditioning units. Air conditioning refrigerants can be harmful to the atmosphere and to anyone who comes in close contact with it. Professionals must perform disposing of air conditioners so they can dismantle the device carefully and avoid polluting the environment.
Our specialists know the different specifications of air conditioning units, which allow us to dismantle it carefully and safely. We often dissect the units in our special facilities that have the right tools, equipment, and containers that trap the dangerous chemicals and let special laboratories and waste facilities handle them effectively.
All you need to do is pick up the phone and give us a call to remove and dispose of your air conditioner in no time.
Stress-Free Removal
If you hire our air conditioning installation Sunshine Coast professionals, they can install and remove air cons without facing any trouble from local authorities. Sunshine Coast has requirements and permits needed to install air conditioning units in residences, offices, and even industrial facilities. Only a qualified professional is allowed to work with and improve or remove and dispose of air-conditioning units
Our specialists comply with the local regulations surrounding air con servicing. All our professionals have taken exams that authorize them to perform the dissection, dismantling, and overall handling of air conditioning units. If you decide to work with us, we'll make sure your old air conditioning unit is removed and disposed of safely!
We can't wait to work with you soon! Call us at 0431 588 808 today and we can give you a quote on our services, or even a discount!
Completely Tidy Up and Remove all Rubbish
It's never easy to install air conditioning ducts and systems. It would mean the breaking down and creation of new passageways inside your walls and other areas of your home. It would mean not only the purchase of additional supplies, but also the cleaning and removal of rubbish in your residential or commercial property.
You will be dealing with a great quantity of dust, dirt, and spare part trash that you need to dispose of properly. Our professionals understand this and are willing to give you a hand for the safety and security of your home from these dangerous products.
Part of their licensure is to observe all safety protocols needed when repairing, removing, and cleaning all kinds of refrigeration appliances. Let's keep our environment safe to work in for the future of our community and country.
For an environmentally-friendly, organized, and safety-prioritising service, give us a call at 0431 588 808 today!
Safe Work with Minimum Fuss
Every city and country have codes to handle refrigerating and cooling appliances to ensure the safety of the residential and commercial complex. Some procedures need permits to handle.
Our companies, having worked in Sunshine Coast for two decades, renew these permits before their deadline so we can help our clients whenever they need our help in installing new air conditioning systems or for any trouble at all.
If there's something wrong with your air conditioning unit today, our company will send representatives to your address as quick as possible to help see what's wrong with your appliance and ensure the safety of everyone involved in removing and dismantling it before we begin any repair procedure on the appliance in our respective facility.
Let's make your air con the safest it can be by finding its possible faults and addressing them as soon as possible. Call us today at 0431 588 808 now!
Sunshine Coast Air Conditioning Experts
Sunshine Coast is one of the most beautiful cities in Australia. Because of the hectic pace of life, it is likely homeowners, and building maintenance teams forget about giving their respective air conditioning units a well-deserved health check-up.
By providing only top-quality service to our clients in any industry, we make sure their investment in their appliances is not for naught. We make sure that all work is completed safely and all installations, including window-type appliance passages to duct openings and leaks, are all addressed.
Let's ensure your appliance is properly installed. Call us today.
Sunshine Coast Cities We Serve:
Alexandra Headland, Aroona, Bald Knob, Balmoral Ridge, Battery Hill, Beerburrum, Beerwah, Belli Park, Bells Creek, Birtinya, Bli Bli, Bokarina, Booroobin, Bribie Island North, Bridges, Buddina, Buderim, Burnside, Caloundra West, Caloundra, Cambroon, Chevallum, Coes Creek, Conondale, Coochin Creek, Coolabine, Cooloolabin, Coolum Beach, Cotton Tree, Crohamhurst, Curramore, Currimundi, Diamond Valley, Dicky Beach, Diddillibah, Doonan, Dulong, Eerwah Vale, Elaman Creek, Eudlo, Eumundi, Flaxton, Forest Glen, Gheerulla, Glass House Mountains, Glenview, Golden Beach, Harper Creek, Highworth, Hunchy, Ilkley, Image Flat, Kenilworth, Kiamba, Kidaman Creek, Kiel Mountain, Kings Beach, Kulangoor, Kuluin, Kunda Park, Kureelpa, Landers Shoot, Landsborough, Little Mountain, Maleny, Mapleton, Marcoola, Maroochy River, Maryoochydore, Meridan Plains, Minyama, Moffat Beach, Mons, Montville, Mooloolaba, Mooloolah Valley, Mount Coolum, Mount Mellum, Mountain Creek, Mudjimba, Nambour, Ninderry, North Arm, North Maleny, Obi Obi, Pacific Paradise, Palmview, Palmwoods, Parklands, Parrearra, Peachester, Pelican Waters, Peregian Beach, Peregian Springs, Perwillowen, Point Arkwright, Reesville, Rosemount, Shelly Beach, Sippy Downs, Tanawha, Towen Mountain, Twin Waters, Valdora, Verrierdale, Warana, West Woombye, Weyba Downs, Witta, Woombye, Wootha, Wurtulla, Yandina Creek, Yandina, Yaroomba
Get Your Free No Obligation Air Conditioning Installation Sunshine Coast Quote Today!
If you need the best air conditioner installation Sunshine Coast services, all you need to do to make sure your new air conditioning unit is installed properly is to call 0431 588 808 as soon as possible, and we can give you an estimate immediately. If you need to have your unit checked for any possible damage, you can call us, and we can have a professional head to your address immediately for a finer assessment of your appliance troubles.
We prioritize the proper installation, repair, removal, disposal, and overall service for your air-conditioning unit. Call us today!