Team of Licensed Electricians Buderim
Looking for reliable trustworthy electrical services in Buderim? Look no further than Act Right Electrical! Contact our team today for a free quote!
Local Buderim Electricians 

Here For All Your Electrical Needs

Electrical Repairs & Installations
Local Electrical Services In Buderim QLD
Are you in need of a reliable electrician in Buderim? Contact the team at Act Right Electrical for all your domestic and residential electrical needs. Our team of highly qualified and experienced electrical contractors offer a range of services, including repair, installation, maintenance and fault-finding.
Our team of electricians in Buderim take pride in our work and is dedicated to providing the best possible customer service. Our goal is to ensure your safety, comfort, and convenience through our exceptional electrical services. With our team of certified and up-to-date electricians, you can trust that your electrical needs will be met with the highest level of professionalism and affordability. For a reliable electrician in Buderim, choose Act Right Electrical.
Trusted Electrician Buderim QLD
Electrical Services We Provide In Buderim
Electrical Rewiring and Renovations: Our skilled and reliable electrician team in Buderim can handle any electrical job, no matter how challenging. Whether you need a simple rewiring or a complete kitchen renovation, we are here to help.
Installation and Repairs: Act Right Electrical's local electricians offer installation and repair services for your home in Buderim. We recognise that electrical systems require particular care, so we take the necessary time to complete each job correctly.
Switchboard Upgrades:Outdated switchboards pose a safety risk, as they may not be equipped to handle the electrical demands of your home or office. Upgrading to a modern switchboard is a wise decision to ensure your safety.
RCD Safety Switches: Investing in a residual current device (RCD) can be crucial in protecting you from dangerous electric shocks and preventing house fires. RCD safety switches are highly dependable in reducing the likelihood of accidents, making them a wise choice for ensuring the safety of your property.
Smoke Alarms:Our team of electricians are equipped to instal and replace malfunctioning smoke alarms in your Buderim home. We believe that every household should have functional alarms installed, ensuring that you and your loved ones are alerted in the event of a fire.
New Home Wiring: Have you recently constructed your home? It is essential to verify that your electrical systems are functioning correctly and comply with local regulations and standards.
Air conditioning:Our team of electrical contractors can take care of the removal of outdated or malfunctioning air conditioning units from your residence. Additionally, we can offer valuable recommendations on the optimal replacement for your needs.
Why Choose The Act Right Electrical Team In Buderim?
Act Right Electrical is the ideal choice if you require the services of a skilled electrician in Buderim. Our business is locally owned and operated, and we possess extensive experience in the field. We are committed to delivering top-notch workmanship and customer service, and we take pride in being one of the most reliable electricians in Buderim and the surrounding areas. Our electrical services include a broad range of services, such as general and domestic electrical services. An Act Right Electrical electrician in Buderim can assist you with any of your electrical requirements.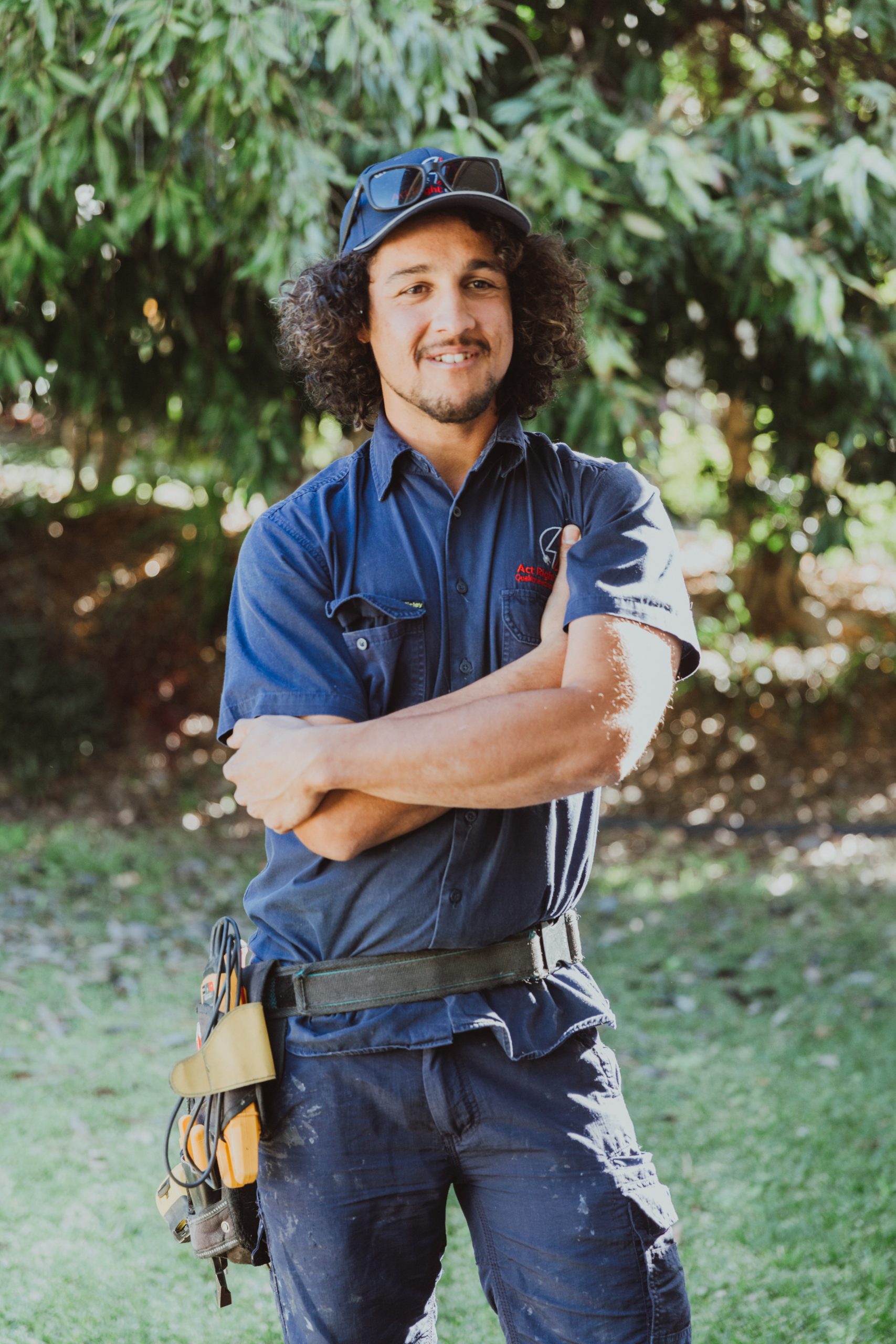 Reliable Electrical Service
Domestic Solutions For Buderim Locals
It's crucial to ensure that your home's electrical systems are functioning correctly and adhere to government standards to protect your safety and that of your family and home. Often, we take the reliability of electricity and electrical items for granted, unaware of the potential risks posed by unattended electrical issues.
At Act Right Electrical, we understand that electrical issues and failures can occur at any moment, often at the most inconvenient times. Our team of local electricians can take the burden of addressing these problems off your hands and restore your electrical systems and appliances to optimal functioning quickly. We can also identify potential future issues, outdated fittings, and areas where improvement or replacements could help reduce your electricity bill.
Trusted Domestic Buderim Electrician Team
As trusted leaders in domestic electrical services in Buderim, we pride ourselves on offering exceptional, cost-effective, and professional service, prioritising customer satisfaction.
Locally Operated Business

Quality Electrical Work
Quality & Professional Electrical Work
We understand that your time is valuable and disruptions can be inconvenient, which is why we prioritise each job and aim to arrive on-site at an agreed time. If we are running behind schedule, our friendly team will call ahead to provide an updated timeframe.
Once on-site, our electricians work efficiently and quietly to minimise disruptions. We take pride in our work and show respect to our customer, their homes, and their businesses, ensuring no mess or damage is left behind. Trust Act Right Electrical to get the job done correctly if you are searching for a reliable local electrician.
Trusted Electricians Buderim
Get Your Free Quote Today!
Whether you require new installations, electrical repairs, or upgrades, an Act Right Electrical Buderim electrician is available for all your electrical needs in Buderim. Our team is fully qualified and experienced in working with all types of electrical systems, taking all necessary precautions to ensure they meet all relevant electrical safety standards.
At Act Right Electrical, we are committed to providing affordable, high-quality service, ensuring you receive excellent value for your money when selecting us as your Buderim electrician.
Frequently Asked Questions