Air Conditioning Sunshine Coast
Are you looking for air conditioning and installation in the Sunshine Coast?
Act Right Electrical specialises in the installation, replacement and removal of air conditioners in Sunshine Coast. With over 20 years combined experience and dozens of rave reviews, we are fast becoming the air conditioning leaders in the Sunshine Coast.
Why Choose Us?
Local business with over 20 years combined experience
No fuss
On time
Friendly professional service
Affordable while still being high quality
Promptness and attention to detail
Quality electricians you can trust
Air con leaders in the Sunshine Coast
Free, no obligation quote
Once upon a time, air conditioning on the Sunshine Coast was considered a luxury. Now, thankfully for our comfort, it is considered a necessity. Along with the changes to the times, have come changes to the affordability and range of air conditioning units. Regardless of whether you regard your air conditioner as a necessity or a luxury it is important to understand your unit or the unit you are preparing to have installed. Knowing your system and choosing the right one for your home and required uses can save many costly mistakes.
Your Local Air Con Experts
This is why Act Right Electrical are experts in the field of Air Conditioning repair and installation. We know our Air Cons! Be it for your home, a renovation home, rental property or hotel situation, Act Right Electrical have the knowledge base, the skills and the care factor to help you make your Air Conditioning choices.
We proudly service Sunshine Coast, Caloundra, Buderim, Nambour, Noosa, Coolum, Maroochydore and other areas.
We Are Here To Help
The average household energy bill, since privatisation, continues to grow. An air conditioner can chew into a large chunk of your energy expenses. Therefore it is important to ask Act Right Electrical for their expert advice.  We can advise you on choices that will run your system without eroding your bank account. With so many options available, from window units to free standing combination heating and cooling units, which ones best suit your home or business? Which choice will work for you? We offer our knowledge and experience to help you make the most energy efficient solutions suited to your home, office or renovation home.
A Sunshine Coast Air Conditioning Company That Will Save You Money
If you have an existing air conditioner system, call us now to examine the efficiency of your system and help save you money. We know and understand that so much of an efficient ducted air conditioning sunshine coast starts with the duct work. With our high standards we can save you a great deal of money by examining, servicing or replacing inside and outside coils to maximise efficiency and reliability. We understand how important the right air conditioning system is for your home and can ensure that the wrong choice, which can cause excessive operating costs, is not one of the problems you will have to consider.
So for air conditioning Sunshine Coast call Act Right Electrical on 0431 588 808, for all your Air Conditioning requirements – be it advice, installation or repair. Our team will offer professional, knowledgeable support with friendly, cost effective efficiency.
As licensed professionals, Act Right Electrical, Sunshine Coast, will provide your family or business with the best, most effective product for you. Contact us today for a free quote and honest advice.
Air Conditioning Installation Sunshine Coast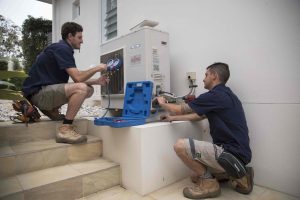 Your particular requirements will determine exactly what type of air conditioning system you require. Act Right Electrical will discuss your needs with you, assess your personal requirements and offer advice and prices on the perfect solution for you. There are many types of air conditioners to choose from and there is the perfect one for you.
We Guide You Through The Process
Which choices from window air conditioners, split air conditioners, packaged air conditioners and central air conditioning systems, how do you determine which one will work most effectively for you? We will guide you through the process, helping you consider not only your current budget and exactly what you expect from your air con system but also your future energy costs to plan for.
Ducted Air Conditioning
If you are looking to cool your entire house a ducted system is generally the ideal choice, with an outdoor compressor, air handling unit and vents in every room. Installation of such a system also requires planning for your visual environment as you will wish to make your system as discrete as possible and with little noise pollution. Your home or property might be short on available space, in which case Act Right Electrical may advise the installation of a multi-head split system or reverse-cycle conditioner.
This system has a solo outdoor compressor which powers different indoor units, all of which can be controlled individually. Wall mounted split systems are great for cooling solo rooms or areas and have an indoor unit with an outdoor compressor, generally with a reverse cycle to both cool and heat.
Evaporative Air Conditioning
Evaporative air conditioning works extremely well in dry heat areas and if you are severely inhibited for space the option of a ceiling cassette system might be the perfect solution for you. Solar air conditioning is an effective green, energy efficient option and will work off both solar and electricity.
You Deserve The Best
Let Act Right Electrical guide you toward the perfect air conditioning choice for you. We are based on the Sunshine Coast and offer professional expertise with the perfect solution for your individual requirements.
Call us on 0431 588 808 to discuss your electrical or air conditioning needs and we guarantee that you will always speak to an experienced tradesman – no receptionists or 'call back' services.
Air Conditioner Replacement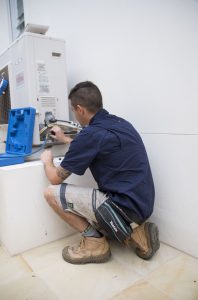 There are many points to consider when it is time to replace your air conditioner and it is always wise to seek the advice of a professional who also has your best needs at heart. Act Right Electrical are professionals in the installation of air conditioning systems. As importantly, our professionalism extends to the expertise in which we ensure that we are providing the best possible solution for your specific needs.
Professional Expertise With a Personal Touch
On the Sunshine Coast, our weather and often high humidity can adversely affect the efficiently and therefore, energy consumption of your system. If your air conditioner is older, or broken and requiring replacing Act Right Electrical will assess your personal or work situational requirements and offer you the best replacement advice. We won't simply replace your air conditioner, we will use our professional expertise to ensure that all aspects are taken into consideration, including future costs to you, through energy consumption and much more.
Important Factors To Keep In Mind
Air conditioners are complex mechanical systems that rely on numerous conditions to work correctly. They are sized to meet certain household or workplace loads. If your replacement system is not installed with consideration to your air conditioning needs, such as:
How many rooms you wish to include in the flow.
How well the system will work during peak flow times.
How well ducting is installed and insulated.
How well your new air conditioning unit marries up with the design of your home, office, motel or renovation home.
How much will the current building design affect the future energy consumption of the air conditioning unit?
If you're are building, should you think about "cool roofing" options?
Can your windows be tinted or shaded and will they efficiently reduce air leakage?
Will other electrical equipment such as washers, dryers and even lighting be in heavy use?
We Are The Professionals You Can Trust
On the Sunshine Coast, Act Right Electrical are the professional to call to replace your air conditioning service. We consider your immediate and future requirements in order to offer you the best replacement options.
Air Conditioning Removal & Disposal
When your old air conditioner system requires replacing, Act Right Electrical will not only quote and assist you with choosing a new system, we will also safely remove and dispose of your old unit. Because all air conditioners, regardless of what brand or type, contain some form of cooling refrigerant, there are procedures to be followed for the safe disposal of old units.
Stress Free Removal
There are both Federal and State regulations regarding the disposal of old air conditioning units. Within the local Sunshine Coast region there are certain requirements set in place by area sanitation departments. Often a qualified technician is required to remove the coolant, as with the disposal of refrigerators and freezers.
Full Tidy Up and Removal All Rubbish
Depending on the type and model of your new replacement, you may require a total overhaul of your ducting and system setup. If this is the case, Act Right Electrical not only help you with a new air conditioner sales and remove all aspects of your old system, we will arrange a full tidy-up and removal of all rubbish associated with your old air conditioner system. We totally understand the frustration of having any sort of equipment or property repaired and replaced only to find that the technicians have not cleaned up after themselves.
Safe Work with Minimum Fuss
Another issue we at Act Right Electrical will assist you with is if there is a burnout on your air conditioning compressor. There are different types of burnout and contaminants are created with a burnout. Should such a situation occur Act Right Electrical will determine the severity of the issue and resolve the situation with professional and safe procedures.
We will also continue right through to clean-up, ensuring that all work is completed safely and with minimum fuss to yourself. You will not have to suffer the concerns or disposing of both metal and coolant materials as we at Act Right Electrical take care of that for you.
Get Your Free No Obligation Quote Today!
Call us on 0431 588 808 today for all your air conditioning Sunshine Coast enquires, including installation. We guarantee that you will always speak to an experienced tradesman – no receptionists or 'call back' services.